When will people learn to PROTECT their investments??  If you didn't (see
actual results here
), you still can.  Go start learning how to Hedge and see our
article
on that. 
Why don't people leverage  Smart Risk Alerting approach that's proven to work?  Or if wanting to remove all emotion from the equation deploy a Smart Trailing Stop proactively? You can never know how the markets will react.  All you can do is have your Exit Plan in place from the Get-Go. Which can be to hedge or exit.
Offering intelligent risk management was SmartStops mission from the get-go.  When we launched in 2008.  DIY'ers need a smart technical approach as it's the institutions deploying their own models driving all this. You can't control what markets will do. But you can be prepared.  Our models were built off four decades of real market experience and continue to evolve.  They intelligent adjust a smart trailing stop that unlike other approaches will adjust both up & down to best ridethe trend and avoid the noise.  But you don't have to deploy stops. You can use instant Risk Alerts to decide your next steps.
There's no reason NOT to step aside at times of elevated risk in our 21st century, computerized and globalized-driven markets.  You could have exited and saved hundreds of dollars PER SHARE!   Instead we see so many still succumbing to the Buy & Hold out-dated philosophy which then becomes Buy and Hold and Pray in these environments.  Sure, there will be a recovery at some point, but what is the opportunity cost to you in holding on?  Do you factor that into your Buy & Hold strategies?  See our chart on recovery times on this page. You can be a fundamentalist all the way down and wait and wait for a recovery.  Have you heard about the lost decade of investing?  Learn to build your exit plan from the start.  Use some approach and hopefully a more intelligent one.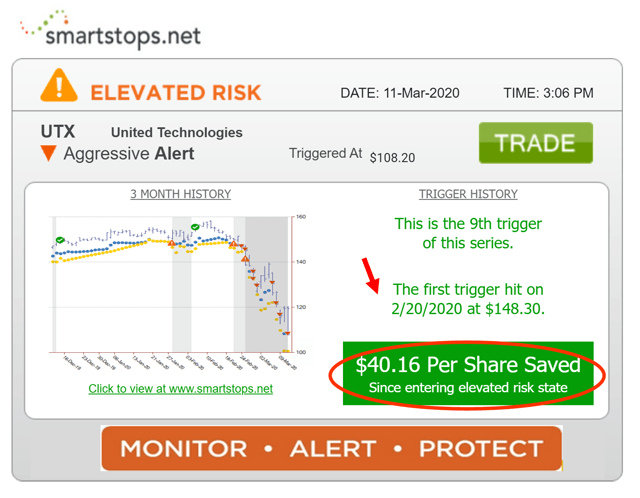 UTX Boeing SmartStops Risk Alert & Savings
There are plenty more examples here.  Go check out what a Smart (R) Traliing Stop approach can do for protecting the profits in your portfolio.  We have saved subscribers millions with this most recent 2020 drop.  Smart investors know you can't predict what the market will do and the best thing to do is to step aside or hedge at times of elevated risk.   The last decade has lulled people into complacency.   Learn now how to deploy proper risk management.  And it doesn't have to be proactive stop orders either.  It can just be getting Instant Risk alerting to your phone or email to decide on your next steps.
Recognize that our 21st century markets are not 20th century markets.  Globalization and computerization have changed how the game is played.   So get SMART(R)!    Get Free Risk Analysis at Investment Tools for Smarter Market